SF Bay Area Ferry routes, schedules and walkshed map
This week, an interactive map of San Francisco bay ferry routes and schedules became available on the baycrossings.com homepage.  The map shows schedules for all services departing or arriving at a particular ferry terminal if a user clicks it.  In addition, the interactive map has three other map views to help travelers plan their trips.  These show connecting transit services (BART and SF Muni) at the San Francisco Ferry Building, ferry gates (so you know where to catch your ferry), and a map that shows a few of the amenities in the ferry building.
Here's what the map looks like before any buttons have been clicked: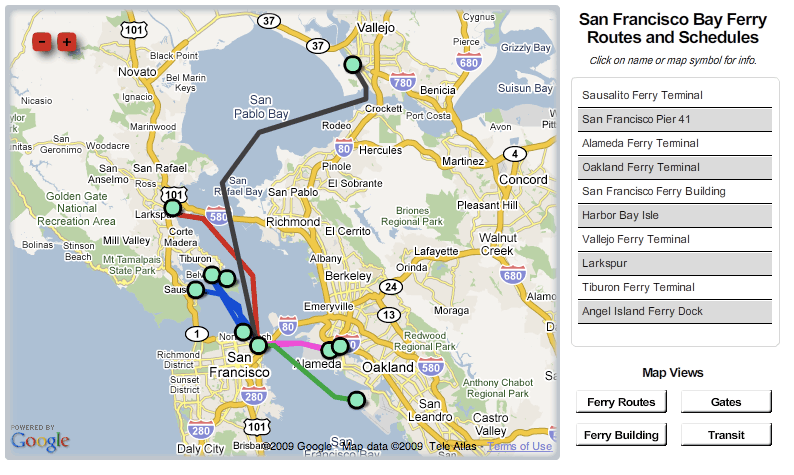 And, after a route is selected, here's a schedule:
The schedule data in this map comes out of information managed with Trillium's WebSchedule application.  One change in WebSchedule changes the schedule information shown in this map view, and in expored Google Transit Feed Specification information for Google Transit.
Trillium worked as a team with Viewpoint Geography to deliver this map for Bay Crossings using the flash Google Maps API.  Bay Crossings maintains a shop that sells transit and ferry passes at the San Francisco ferry building, and publishes a monthly publication that features articles of interest on San Francisco Bay cultural, environmental and maritime issues.  Bay Crossings, and this project in particular, are great examples of efforts to make transit information easier to use, reach new customers, and build and publicize a lifestyle brand around transit.
So, check out the map on the Bay Crossings website, and tell me what you think!